Bromophenol Blue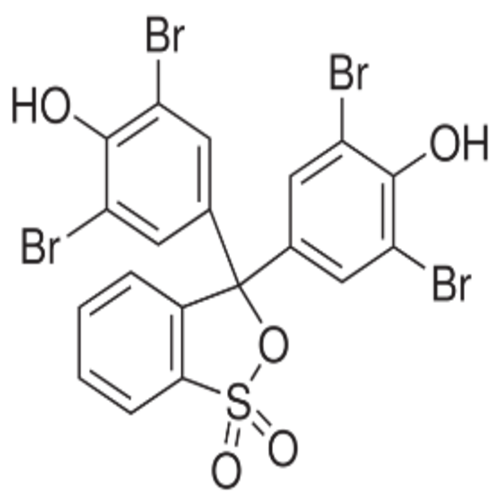 Bromophenol Blue
Price And Quantity
Container/Containers

5000.00 - 5500.00 INR
Product Specifications
Product Description
Chemical Name
Phenol, 4,4'-(3H-2,1-benzoxathiol-3-ylidene)bis[2,6-dibromo-, S,S-dioxide
InChI Key
UDSAIICHUKSCKT-UHFFFAOYSA-N
Solubility
Soluble in acetic acid.Soluble in water (about 0.4 g/100 mL); more soluble in methyl and ethyl alcohol, and in benzene. Freely soluble in NaOH solutions with the formation of a water-soluble sodium salt.In water, 3 mg/mL
Product Description:
Bromophenol blue is an acid-base indicator since its useful range lies between pH 3.0 and 4.6. It changes from yellow at pH 3.0 to blue at pH 4.6; this reaction is reversible. Bromophenol blue is structurally related to phenolphthalein (a popular indicator). Bromophenol blue is also used as a color marker to monitor the process of agarose gel electrophoresis and polyacrylamide gel electrophoresis
Applications:
Chemicals and substances that impart color including soluble dyes and insoluble pigments. They are used in INKS; PAINTS; and as INDICATORS AND REAGENTS.Concentrations of bromophenol blue (I) in plasma, urine, and bile were determined spectrophotometrically after intravenous bolus injections and infusions in rats. The plasma concentrations were found to decrease mono exponentially after all doses except the highest, where the decrease was biexponential. Bromophenol blue (BPB) is the most widely used stain in gel electrophoresis for tracing the migration of samples on electrophoretic gels. If the gel is staind with 1 - 5 mg bromophenol blue, this may be detected much easier and earlier. In case that the stain will interfere with other applications (e. g. silver staining), a pre-run of the gel will remove bromophenol blue. It does not influence the migration of the samples. Add the solid stain before adding the catalyst.
Contact Us
201 Second Floor, Modi House, Bajaj Cross Road, Kandivali West, Mumbai, Maharashtra, 400067, India
Phone :+918045813230